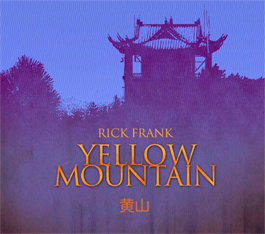 reviews
Reviewer: Ralph A. Miriello www.jazz.com:
"Yellow Mountain" effectively commemorates drummer Rick Frank's trip to China. A picture of what appears to be a temple atop Huang Shan, which translates to Yellow Mountain, imposingly decorates the album cover. The song with its "carpet of sound" by pianist Brad Hatfield is a tip to that style's master, McCoy Tyner. It forays into a rhythmically driven extended piece of improvisational jazz with some nice soprano work by Bruce Abbott. With Frank and Synder effectively laying down the tempo off which the others feed, this is a nicely crafted piece with Eastern undertones. Jim Robitaille's Metheny-like guitar work in the final solo adds another element of texture to this piece that sets it apart from its predecessors.
Dick Metcalf, aka Rotcod Zzaj - Improvijazzation Nation:
YELLOW MOUNTAIN: It's the title track (also the opener) that gets my vote for "favorite track"... Rick's drumming & effervescence comes shining through... he's joined by a whole host of very talented players (6, to be exact) with the same bubbling-cauldron kind of energy for straight-ahead jazz - this will be a genuine "keeper" CD, not to be relegated to the "collection" .mp3 folder... it will instead be dragged to the TOP of the "favorites" folder, I'm sure! Liner notes say that this tune (& the inspiration for the album) was from a visit to China's "Huang Shan" (what else - Yellow Mountain), with the idea of "capturing the power of the landscape" there... having been to similar sites myself (most of them in Korea, though a few in Thailand), I can feel the same sense of raw energy that landscapes like that create... especially when enhanced by the degree of creativity Mr. Frank shows in his compositions. A close second for favorite track was "Island of Introspection" (Tom Davis), with some excellent percussion accompanying Rick's drums, as well as spot-on contributions from all the other players. I'm highly impressed, & will surely look forward to new releases from this artist... MOST HIGHLY RECOMMENDED, to be sure.

John Book, www.booksmusic.com:
Rick Frank has been playing drums with jazz bands for many years, but many have become to love the work he has released under his own name. Yellow Mountain (??) (Decker Creek) he performs with two different sets of musicians to create one of those jazz albums that you know you will have on repeat for years, the kind of album you'll want to share with friends when they want to know what you're currently listening to. Even if you're not listening to it, it's the album that you pull out to show off your stereo equipment.

Frank has a number of friends helping out on this album, including Mark Snyder (bass), Oscar Stagnaro (bass), Paulo Stagnaro (percussion), Brad Hatfield (piano, keyboards), Bruce Abbott (saxophone), and Jim Robitaille (guitar). There's a modern feel to this jazz, the kind that was explored by many artists from the late 70's on, it's very electric in feel but not in the Miles Davis sense. It's very soulful and perhaps a few steps away from smooth jazz, but hearing the different textures and changes within the title track will make you realize this isn't a group of musicians who are working on cruise control. "Island Of Introspection" sounds a bit like Pat Metheny through Robitaille's guitar work, while "Hymn To Kalopi" could have easily been performed with Stan Kenton or Steely Dan in mind, it's very mellow in its pace, very deliberate and precise, creating a drive that is relaxing and sensual at the same time, even though it was written as a musical hymn. "Monk Funk" is just as what the title indicates, a nice jazzy funk track honoring the Thelonious one in song and perceived dance. Frank is a very full and fluid drummer, never playing too loud but always adding color to create the pictures he wants listeners to hear and see.